Beginning Theory by Peter Barry – a book review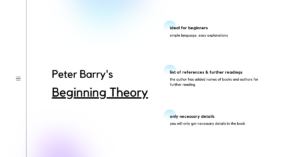 Peter Barry's most famous book, perhaps the most popular among students of literary theory as well, Beginning Theory, is one of the most-suggested books that any expert in literature would recommend to absolute beginners who are just beginning their classes in literary criticism and theory. Beginning Theory is one such book that makes many complex topics in literary theory abundantly clear to anyone who has not studied anything before. The complex ideas like langue and parole by Saussure, binary opposites, deconstruction of a text and many others become simple. As a student of English literature, I have had the opportunity to read this book during graduation and beyond. The author of this book has made his sincere attempts to simplify the otherwise elusive world of literary theories. I recommend this book for beginners.
There are many chapters in the book. Popular contemporary literary theories find their names as the titles of the chapters. Moreover, it is remarkable that Peter Barry hasn't made any efforts to exhibit his unmatched scholarship in this book. He tries to remain simple in his attitude towards the subject matter. And it becomes essential to note because many authors keep busy grinding their axe of wisdom, leaving the audience lagging with perplexed minds.
With a simple approach, Peter has noted down the core traits of any school of theory, the usual practices by the theorists, and the ramifications on literary interpretation. It is what a student wants to learn. And this book brings the same without any hiatus. I have benefitted a lot from studying this book. That's why I can vouch for this book. I have read many others by acclaimed authors. However, their approach is troublesome. There is less substance, zero empathy and more than one-hundred per cent exhibition of gaudy wisdom.
Peter Barry is a professor. It reflects in his writing style as well. He writes from the point of view of a facilitator in the classroom, trying to make his students learn complex ideas. The author has given the names of books in the further reading sections. He has also added references and citations. And it eventually becomes a vital next step that any student would like to take after reading and digesting this book. After understanding the beginnings, it is natural for anyone to bask for more. Peter Barry has offered that. He has listed all that a sincere and curious student might want to do next.
Out of many books on literary theory in the market, I suggest this one for beginners. I hope I have added enough reasons to convey why. After reading this book, students will find themselves adequately prepared to study books that contain scholarly essays on different literary theories.
By Guddu for The Best Books