Intriguing & Interesting books on my reading list – The Concept of 'God' to Moving for Moksha & more…
I have been sharing my reading list from time to time and I enjoy doing it. Not only me but there are many readers who get involved with the books I mention and this is good – sharing the joy of reading with others. This time, let me introduce you to the books that people will not only enjoy but also share with others because of the interesting content that has been fused with the glossy or rough pages… yes, there are fiction books, poetry collections as well as non-fiction titles which are no way behind the fiction in terms of intriguing content. Are you ready? Let's get straight on the list!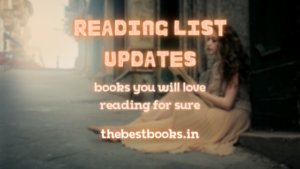 The End by Samuel Beckett: Well, I bet that many students of English literature in India must know Samuel Beckett only as a writer of absurd plays. Believe me, he was equally absurd and intriguing when he wrote novels and The End, published in 1960, is one of his 'most' finest and most confusing novels that you must read if you are looking for a 'punch' of salt before sipping your usual wine glasses… this novel will give you the real taste of fiction… maybe a test as well!
Moving for Moksha by Alok Mishra: I already told you about the publication of this intriguing poetry collection written by Alok Mishra with a preface collaboration with Nidhi Parikh, an emerging book critic and a co-poet. However, now I have put the book on my immediate reading list and you might see a book review on The Best Books very soon. Moving for Moksha takes the concept of Indian inspiration for Indian English poetry to another level with the fusion of Hinduism with a verse which seems more aligned with T. S. Eliot's concept of poetry rather than Keats or Wordsworth. It will be interesting for the lovers of Indian English poetry and also the readers who want to know more about Indian English poets.
The Concept of 'God' by Vinoth M: Well, as the name of this book suggests, the non-fiction 'thriller' (I may call it after having an initial look) book takes the intriguing debate of God or no God to a very heightened level with a well-balanced commentary, analysis and synthesis of the available data, thoughts and opinions. I am sure that readers who are interested in reading quality non-fiction books and readers who are also interested in knowing about God's existence and reading about the questions around this concept will like the book a lot… Vinoth M has been more scientific, however, than he has been an emotional religious person (author). Are you ready for the challenge?
The Problems of Philosophy by Bertrand Russell: Though many readers do not take a deep interest in reading philosophical texts these days, Russell's books on philosophical topics and debates are among the best resources for a reading pleasure which extracts critical thinking out of the readers as well. I would suggest this book be read by every student of philosophy as well as those who take a deep interest in philosophical texts and problems. The book takes a deep look at some of the essential, elementary, most fundamental and quality philosophical problems. Do give it a read and I will surely post something once I finish the book.
Unaccustomed Earth by Jhumpa Lahiri: This is a collection of short stories by Jhumpa Lahiri, an acclaimed author who is known for writing short stories featuring existential crises and diasporic dilemmas. This collection may be a lengthy one in terms of the lengths of the short stories but would be interesting for the readers as well. If you are a serious reader, you should pick this book up in that case only. Unaccustomed Earth will be an interesting, but lengthy, read for literary fiction lovers.
At the same time, if you are looking for more books, you can always read novels that you find handy. Also, if you are looking for challenging reading lists, you can explore philosophical novels or psychological novels. I would also suggest you read The Namesake by Jhumpa Lahiri. You can read a detailed book review here –  The Namesake book review.
So, reader friends, this is my list for now and I will be back with more content on all or some of these books. Moreover, I will be posting more lists like this in the future as usual. Keep reading and take advantage of your spare hours. All the best!
By Suman for The Best Books