Harjeet Khanduja – Meet the author, poet & visionary business leader
Harjeet Khanduja is an Indian author, poet, motivational speaker, seasoned corporate personality and business leader. A multi-faceted, versatile and dynamic personality – Harjeet Khanduja has written two books for those engaged, interested and inspired in the world of business, a collection of Hindi poems written by him, and has spoken in various institutes among students, TEDx audiences and many times on stages set for contemporary poets and shayars. His writings are appreciated widely by industry leaders, well-established business personalities and audiences in general. His latest book, How Leaders Decide, and his previous one, Nothing About Business have been appreciated by many well-known celebrities, including Harsh Goenka, the leader of the Goenka Group.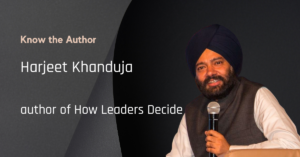 The distinguishing factors that differentiate Harjeet Khanduja from other authors of business books are very apparent. I have read many authors, Indian and otherwise, who write business books. However, one thing remains mostly common – they write with a very strict audience in their mind. And so, only one set of readers can expect something out of such books, and the rest will mostly find themselves bewildered by the technicalities of the argument or perplexed by the academic inputs. However, in the case of Harjeet Khanduja, though he does write for a target audience, he leaves some space for readers from any background irrespective of their previous knowledge.
It is evident from his second book, How Leaders Decide, that the author is capable of preparing compelling, interesting and convincing chapters that not only educate but also elucidate, illustrate and express the concerns, examples, points and perceptions with convincing arguments, simple to understand scenarios and very relatable references. The same can be found in his first book, Nothing About Business.
As a poet, Harjeet Khanduja mostly writes satirical, comic and light poetry. He believes in making his readers laugh, entertained and jolly amidst tense life. As a speaker, the author believes in transferring his knowledge to the younger generation or sharing his experiences and methods with others in the same boat. Harjeet has spoken on various occasions and in various institutions including IIMs of India. He brings with him a wide knowledge of human resources, management mantras, success sutras, motivation and willingness to excel in the desired field of work.
Harjeet Khanduja's works have been appreciated by many readers, leading voices in various industries and those who are sharing the space with him within the corporate corridors. He has been ascribed the title of R K Laxman of Business in India and that matters a lot. You can know more about Harjeet by visiting his official website – https://harjeetkhanduja.com/