7 Books to Read if You Want to Understand Your Problems and Solve Them too! #ReadingList
Why do we read books? Most of the time, we read books to enjoy our leisure, have some fun, learn new things, or just kill minutes. Well, if you are in the category of readers who read to understand themselves and find solutions to various problems of life, you are reading just the right list on the internet today! I have read many books casually and professionally. I have savoured only a few books – the ones I read many times, over and over again. These are seven books that anyone would like to read again and again, find meanings of things we often ignore or just cannot handle at times, and these books will also inspire anyone to reconsider many things and act accordingly. Motivation for life, understanding of life, and a free mindset are the byproducts of these texts. So, be aware!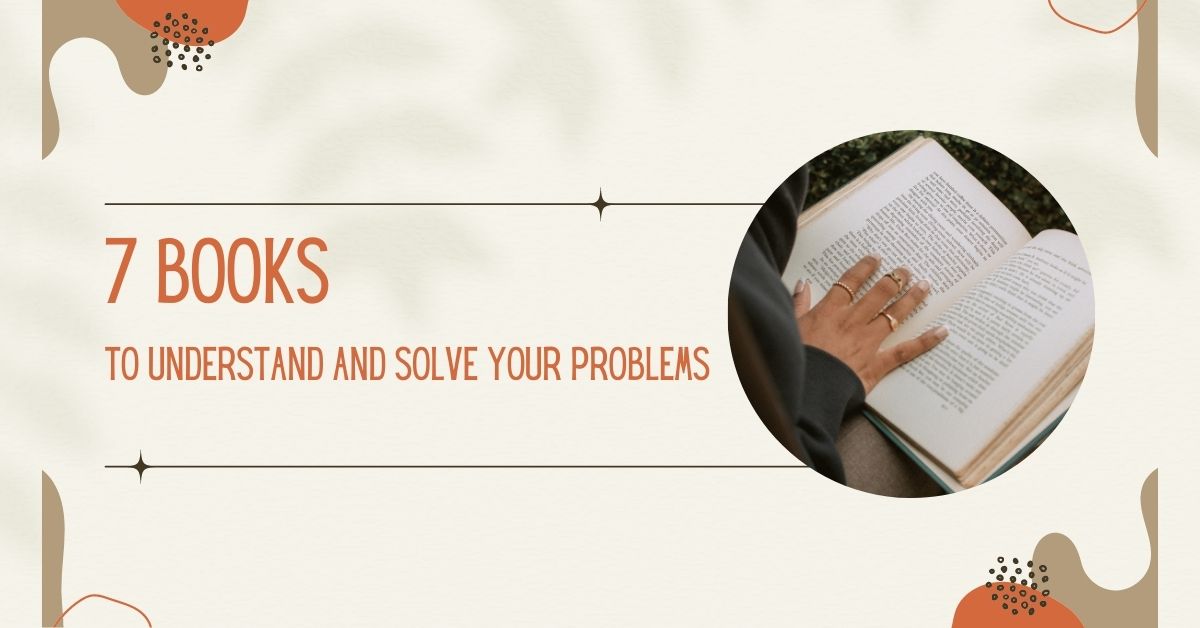 Integral Healing: Compiled from the Works of Sri Aurobindo and the Mother: Sri Aurobindo was a literary giant who put the best of India to the world for a glimpse into the vast eternity of philosophical richness that one of the most ancient civilisations in the world has to offer. This book, though not among the well-known authoritative texts by Sri Aurobindo, is one of the best books on holistic healing that one can find and read! In this book, there are compilations from the works of Sri Aurobindo and the Mother, Mirra Alfassa. This book discusses the impact of mental and spiritual wellness on physical health. It will be a great source of knowledge for anyone who wants to understand the spiritual secrets of a physically sound life. You can get a copy from Amazon India – click here to get a copy now.
The Tao Te Ching by Lao Tzu: The book by Lao Tzu has influenced Buddhist thoughts noticeably. Taoism, moreover, exhibits the great impact of this ancient Chinese text as well. The book discusses how can human beings live in a bonhomie with nature, flow with it and enjoy the best benefits that nature has to offer. The book discusses how one can leave ego and pride behind, embrace everything as it is and live happily. Though the ends may be the same as we find in many other Eastern works of literature, especially Hinduism, Lao Tzu's classic has a distinct way of preaching them. You can read it to judge for yourself. Get a copy from Amazon now – click here.
Letters from a Stoic by Seneca: Seneca may be unknown to the masses. Readers who have a literary background should know this ancient Roman philosopher though. Known for his stoic philosophy, Seneca discusses the importance of being self-satisfied, happy by internal virtue and independent of external causes (or things such as wealth and status). The book is a compilation of letters written by Seneca to one of his friends. It might sound a little over the board at times. However, the overall impact that this collection of essays has on readers is beneficial. If you are interested, you can get a copy of this book from Amazon India by clicking the link – get a copy now.
The Kintsugi Moms by Dr Haseena Chokkiyil: Dr Haseena's work is primarily for women who want to understand the true cause of their sufferings, and also come out of it (for good). I cannot say that I enjoyed reading the book because the content is about the sufferings of real women (with changed names) who had to bear the brunt of their family members, society as a whole and sometimes of themselves. However, the second part of the book is truly remarkable – the compilation of knowledge, expertise, wisdom, and learnings of the author that she has collected over the years of her practice, interactions, and readings. The Kintsugi Moms discusses the richness of holistic healing, Yoga, and mental well-being practices and how these can change the lives of people. The book is recent, useful, and very innovative. You can get a copy from Amazon India – click here to buy one now.
Meditations by Marcus Aurelius: Written in twelve parts, it was a personal book written by the Roman Emperor Marcus Aurelius. The emperor wrote it for his self-discipline and wisdom. However, over centuries, the book has become a classic in philosophy, self-development and growth. There are different topics in different parts of the book. Like Senecan stoicism, this book also deals with themes of detachment from external causes and mulls on drawing inspiration and drive to live from the internal being. You can get a copy in your desired format from Amazon India – click here to go to the Amazon book page.
The Bhagavad Gita: If your requirements are beyond the physical world and your bodily well-being, there is seldom any other book to keep your soul (the inner being) well-fed! The Bhagavad Gita, preached by Sri Krishna on the battlefield to Arjuna, the greatest archer, this treasure of knowledge will be the best solution to the problems that perturb us internally. Sri Krishna discloses the greatest of the secrets – who we are? Where do we come from? Death! Life! Birth! Karma! Action-inaction… and so on. There are the world's greatest personalities and ask anyone, they must have read and admired the Bhagavad Gita. You can get any edition you like. Here is my suggestion – get it on Amazon India now.
Bhojankutuhalam: This book is in Sanskrit and the explanations are in Hindi. A practical book based on the ancient Indian knowledge of Ayurveda and food science, the book suggests what to eat and in what quantity to get rid of many diseases. I found the book very useful for lighter and mid health conditions as it saves one from getting allopathic medicines every now and then (which is not at all recommended). You can find an edition on Amazon India here – get a copy now.
So, guys, this was the list of books for today. I am sure you will find the books on this list very useful and practical. All the best!
Kshitij for The Best Books