Feeling romantic? Read these two novels based on marriage!
Romantic novels are never out of fashion! Any day, any hour or any minute, you can think about love and you will have a few novels in front of your eyes. The ones you have read as well as the ones you did not get the opportunity to read. As a book blogger, I have read many novels I can call romantic but only a few of those can get my attention for long. Recent ones that I truly enjoyed reading come with a very different package. A debut work by Srinithya Srinivasan, Marry Me, Ms. Stranger, comes with a sentimental appeal, a thoughtful discourse and an emotional journey covered by a couple, or rather a stranger pair of persons. You may have been fascinated only by my description… Janani and Aman's journey to marriage is certainly amazing! 🙂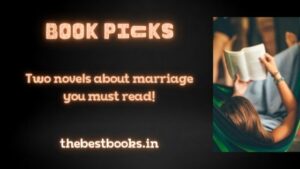 The second novel that I would like to discuss here is by Mamta Kashyap, An Unusual Honeymoon. This one is hilarious, light, smooth comedy with a romantic twist. If I may say, Srinithya's work is rather serious and sentimental, and Mamta's work is light and amusing. However, one thing that binds both the novels together, if we try, is marriage – marriage that is not ordinary. In Mamta's An Unusual Honeymoon, Mahashweta, just after a break-up on the verge of marriage, marries a guy she barely knows! In Srinithya's novel, Marry Me, Ms. Stranger, Janani is barely getting out of a marriage that couldn't take place and a stranger proposes her! What?
Comic novels are often thought to be a respite that saves us from the worries of life. True! However, at times, there are novels by the novelists who can use the opportunity to spark a conversation that can convey more than just entertainment and the same has been done by these two women novelists; and you will find it out once you read the novels.
Marriage is regarded as a very important part of human journey. In India, it is even more. And the two novels I have discussed here try to represent the same ideas. How do we know the counterpart? Why is knowing the person important? In Srinithya's novel, it's about the journey that it takes before the marriage could start functioning well enough. It will offer you a complete movie-style romantic set-up and sets of emotionally charged conversations between the protagonists in the novel. You will love it!
An Unusual Honeymoon by Mamta has been successful in fusing comic elements with romance and this amalgam has certainly created a very finely balanced fiction that will help the readers enjoy their leisure with literature. You can get both these novels from Amazon. For your comfort, let me disclose that these novels are very compelling and you will be able to finish them quickly. All the best!
Written by Amit for The Best Books